The Best 7 Social Media Tips for Small Businesses
Social media can be a powerful tool, but it can also be overwhelming and confusing. As a franchise or small-business owner, you are inundated with social media tips and technology options. Which platform should you focus on? How do you get started? How the heck do you use Reels?
It's enough to make many owners abandon social media marketing altogether. However, doing so will not allow you to reach your target audience effectively — and meanwhile, your competitors may be collecting followers like they're going out of style.
Rather than throw in the towel, take advantage of the social media tips we have to offer in the article below. We're here to demystify social media marketing and provide some clear, actionable steps you can take today.
1. Decide Which Platforms Make Sense for Your Business
Being on every platform isn't realistic or necessary, so choose carefully and pick the ones that best align with your target customers, goals and budget. For example, if you're trying to reach a younger generation, you might want to focus heavily on Instagram. On the other hand, if you're looking to grow your email list or you have a physical store where you're trying to attract customers, then you'll want a presence on Google My Business and Facebook, too.
Focusing on just a couple of platforms helps you avoid getting overwhelmed with posting everywhere and trying to create content for too many platforms. It's better to focus on the platforms where your customers spend the most time and do them really well — rather than spread yourself too thin and have your posts feel generic and lack engagement.
2. Know Your Platforms
Even if you're active on multiple social media platforms, remember that they all have different users. The people who follow your business on Twitter are probably not the same people who follow it on Instagram or Facebook. 
As such, be sure to tailor your message for each platform. On Facebook, it might be fine to post a link over to one of your blog articles with a caption summarizing the article. On Instagram, you will need to post a photo with your caption and put the link in your bio if you want people to be able to tap the link. In other words, links are not clickable within Instagram captions.
Related: Meet the Social Media Platforms: A Quick Guide to Facebook, Instagram, LinkedIn and Twitter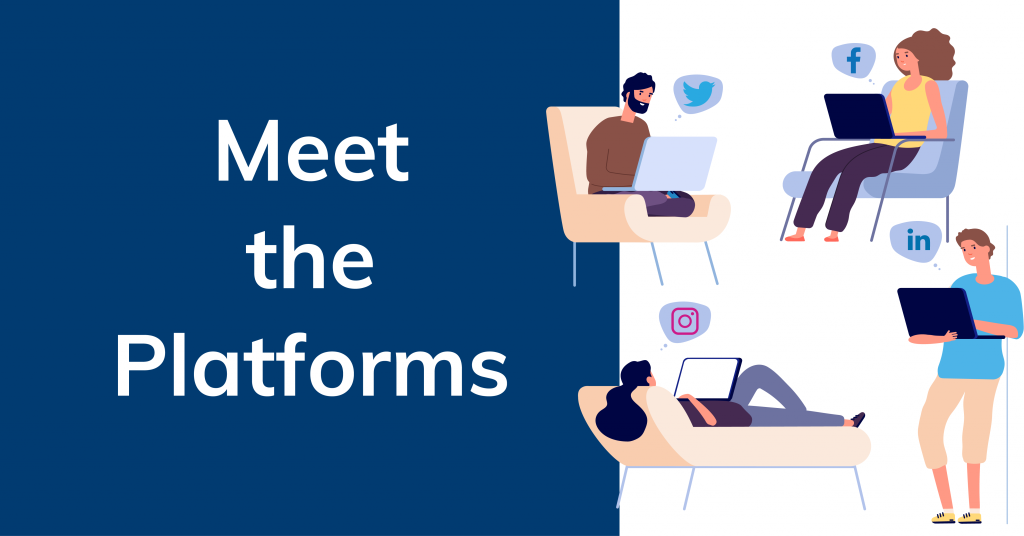 3. Don't Feel Like You Have to Post Every Day
It can be tempting to post something every day, but that's not always the best course of action. If you're short on time, maybe you post three to five excellent posts per week. 
Focus on quality over quantity; if you're posting without aim or strategy, you're just wasting your time. Instead, make sure anything you post is likely to bring in new customers and engage with existing ones.
4. Be Consistent
Consistency is key, too. Posting regularly keeps your page fresh and helps get your message out there more frequently. 
And if you're worried about repeating yourself too much, focus on posting different types of content rather than different topics at the same frequency. For example, you could have a video post one day, a customer testimonial another day, and one more post featuring a product promotion or a closer look at your business behind the scenes. This way, your content will all feel unique.
5. Work on Engagement
Social media is a two-way street. You've got to give in order to get. If you're not interacting with your audience, you're missing out on chances to drive traffic back to your site and keep them engaged with your brand.
The best way to get attention on social media is by creating meaningful content and engaging with your followers — no matter how large or small they might be. The only way people will care about what you have to say is if they feel like you care about them first. Be responsive, helpful and entertaining. And don't be overly promotional!
Other ways to increase engagement: 
Have a quick call-to-action on each post that links back to your website or encourages users to take some sort of action.

Consider running contests or sweepstakes through social media as a way to build followers and increase interest in your brand. Doing so allows you to collect names and email addresses from interested parties and increase traffic to your website or store.

Curate and create localized content. Post real photos of your store, staff, customers and products. Give your audience a glimpse of your world with fun photos of your pets, family or community.
6. Don't Focus Just on Numbers
The number of followers you have won't mean much if they aren't actually interested in what you're doing and aren't likely to purchase anything from you. While it's important to grow your social media following, it's what you do with your audience once they follow you that matters.
We've seen our clients have great success not just with engaging with their audience and following up on questions, comments and reviews, but also boosting their content for greater reach. This enables more of your posts to be seen by people outside your immediate follower base.
Related: 4 Big Reasons You Need Localized Social Media Content
7. Use Technology
Trying to manage your social media accounts using a spreadsheet or a few bookmark folders is practically impossible — and it might give you a giant headache.
Instead, use a social media management platform like Rallio to help with social media marketing. Our platform lets you schedule posts ahead of time, upload photos and videos into your own library, respond to reviews and inbox questions, and activate your employees as brand advocates. 
You'll also be able to see reports on how your content is performing — so you can make sure you're reaching the right audience, optimizing your posts, and creating the most engaging content. Best of all, you can keep everything organized in one place so you can work on your social media management in just a few minutes each day.
Make Your Content Stand Out With Our Social Media Tips
Social media is a great way to increase your brand awareness and help put your company in front of new customers. For small businesses, it's also a good way to get your name out there. 
And while going social is something all small businesses would like to do, not all are prepared or even equipped for the challenges that come with it. It's not as easy as just signing up for the major platforms; you have to know how best to use them. With our social media tips, award-winning technology, and automated services, you can start making the most of your social media presence.