Align Your Franchise Social Media Marketing Across the Brand
Franchise social media can be a fantastic way to build a community and reach new customers, but it's still a relatively new marketing platform for many franchise brands. The challenge is that when your franchisees are using social media in their own way, it can lead to inconsistent branding and damage the brand's reputation. It can also lead to challenges when building a local presence and engaging with these customers, who are used to a different level of service. Here's how you can align your online presence across all of your social media channels and train franchisees to get their social media marketing aligned across the brand.
Use Technology for Social Media Management
As any business owner can tell you, sharing content across various social channels can be a time-consuming task. Logging in and out of different platforms, coming up with social media content, and engaging with followers is a full-time and one that most businesses don't have time to tackle. And international franchise businesses that aim to expand their footprint outside of the country may face additional challenges when trying to organize and manage their social media platforms due to language and cultural differences.
By using a social media SaaS platform like Rallio, marketers can manage all aspects of their social media presence from one place. It allows them to schedule posts, monitor analytics, track engagement and more without having to log into multiple platforms every day. It also empowers them to engage directly with customers when they leave comments, post online reviews, and send direct messages to the brand — ensuring nothing slips through the cracks.
Related: For 5 Years Running, Rallio Is a Top Franchise Supplier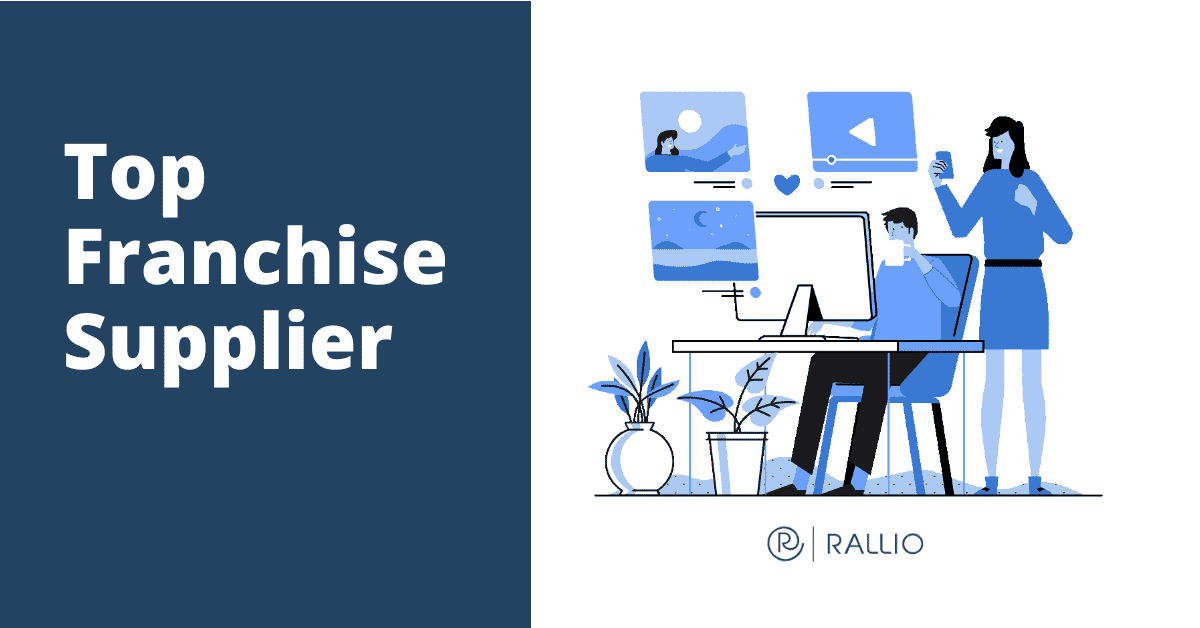 Keep a Consistent Brand Image
When it comes to franchise social media marketing, important to maintain a consistent brand image even down to the location level so that your brand does not become fractured. In addition to using Rallio's technology, which allows franchisors to set global permissions based on their needs, there are several ways you can ensure consistency across all your locations:
Identify your key messages and themes
Make sure they are consistent across all social media channels. This will help you be more effective at driving engagement and conversions.
Develop a social media policy
The policy must outline how franchisees and their employees should use social media accounts on behalf of your company, including guidelines on what types of content should be shared, how often, and who has permission to post or upload content on behalf of the business. The policy should also outline what they can't say or share on social media accounts and explain why these policies exist.
Ensure that each location has its own branded profile pages
This includes Facebook, Twitter, Instagram and other platforms where they're active. With unique pages, franchisees can show off their own personality through photos and other content and attract local business.
Set up a system for posting content at each location
Whether you hire a third party or create an internal team, make sure there is consistency in the images and messages being posted across all locations. This will help develop brand recognition and allow customers to feel like they know your brand well. It also helps establish trust between your company and customers by fostering consistency across channels.
Keep it local and engaging
It's important to personalize content depending on what works best in each market or region within your franchise network — whether that means local news, events or weather updates — but don't forget about developing unique content tailored specifically to each location as well. For example, if one of your locations has a great new chef or menu item, create a post that features the chef and their famous dish.
Build an editorial calendar for content sharing across all channels
Make sure that each piece of content is aligned with your company's overall voice and tone and offers value to your audience — whether it's tips for running a successful business or educational resources for customers or prospective employees.
Pay Attention to Customer Care
Social media is a critical medium for franchise brands to strengthen relationships with stakeholders and potential leads in today's digital economy. It's important to pay attention to customer care, as many people use social media as a customer service channel. Here are some tips:
Be responsive, but don't overreact
You should respond quickly, but don't panic if you aren't able to answer immediately. Aim to reply to comments, messages and reviews within 24 business hours.
Don't fear negative feedback
It's inevitable that you're going to get some negative comments on social media. And while a lot of people think that if they get negative feedback, their brand will be damaged, it's actually the opposite! Use it as an opportunity to respond professionally and show everyone you're able to resolve issues gracefully. You'll earn your followers' trust — and hopefully even more sales!
Use the right tone
The tone of your replies should match the flow of the conversation — if someone asks for help or has a complaint, respond in an empathetic tone; if they're just making small talk, respond casually.
Provide value
Responding with basic information like "I'm sorry" or "Thank you" isn't enough — you need to provide value by offering actionable advice or resources that will help them solve their problem or make them want to do business with you again.
Align Your Brand and Reap the Rewards
The franchise industry is continually shifting its marketing focus toward social media, and it's safe to say that it's going to continue to be a central part of most franchise marketing plans in the future. By investing time in social media and laying the groundwork now, you can build an effective franchise brand on multiple platforms. Social media will likely continue to expand into other digital channels in the future as well, so it pays to be prepared. Contact us at rallio.com to schedule a demo and start taking advantage of having a single platform for all your social media marketing needs.