6 Reasons to Improve Your Online Offers for Better Results
To drive more customers into your store, the easiest solution is to create an online offer and share it far and wide. People who are interested (and who weren't before) now flock to your establishment to get that discount, and now you have a busy, thriving local business.
But that's not always how it works out, is it?
Instead of the rush and clamor to enter your store, it may be even slower than usual. People trying to redeem their coupons may be getting frustrated with the current process. Or you may wonder whether what you're offering is really making a positive impact on your growth.
If you're thinking you can improve your results, here are six reasons why your coupon codes may not be driving the return (and the customers) you want:
You're Overdoing Them
Do you only post coupons on your Facebook page? If so, you might be devaluing your products and services to the customer. Here's why:
When you casually create coupons, you dilute the actual value proposition of your brand. Moreover, you're saying that the coupon value is the "real" price over the listed one since you're using that discount constantly. Coupons and discounts can effectively boost sales and create a larger customer base, but excessive coupon use could hurt the long-term success of your business.
You're Using the Same, Repeatable Coupon Code
With the complexity of creating new coupon codes on POS systems, it can be simple to create one or two new coupon codes and disperse them everywhere. But using the same barcode could be costing you a lot of money in sales.
[bctt tweet="How much money have you lost to employees scanning one reusable coupon?" username="rallioHQ"]
Remember, coupons are a marketing tool to get people into your store. But it's not unheard of for employees working at a register to have a printed coupon with a code on hand to scan repeatedly for customers. As customers go through the checkout stand, they keep swiping the same coupon for each transaction, even those who weren't being incentivized by the coupon to buy anything. That could be thousands (or millions) of dollars each year that you're losing to misusing your coupons.
You're Making them Difficult to Save
Once a customer has found your coupon, how easy do you make it to save? If you're like many companies that use online coupons, you've posted it as an image or embedded it into your website. Some savvy people will know how to email themselves the link, save it as an image or even screenshot it. But without a clear call to action on how to keep the coupon (like a send to email or text it to me option), you've made it much harder on your customers to save your coupon for future use.
You're Making Them Frustrating to Redeem
Wait, you're saying I have to print this out and bring it in? Since you only offer one per customer, I have to sign up for your club so you can track it? How many things are excluded from this offer in the fine print? And I have to download your app to redeem it?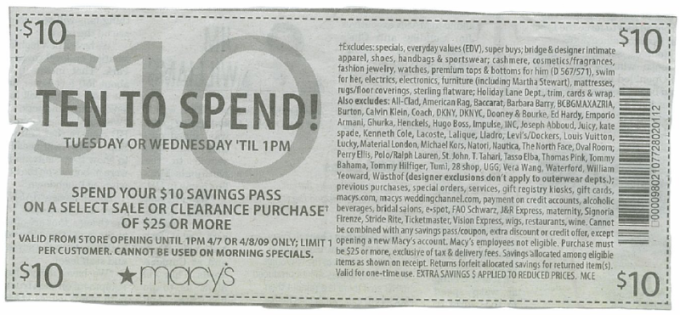 These examples describe hurdles your customers would have to jump before purchasing from your business. Again, coupons create an incentive for new customers to try your services and introduce them to your brand, so you want to make their first experience as simple and easy to complete as possible.
You're Making it Hard to Find a Location Near Your Customers to Use the Coupon
If you only have one location, you shouldn't be concerned about directing customers to the right place. But with tens, hundreds or thousands of locations, you want to help potential customers find the location nearest them quickly.
For multi-location businesses, it's important to display all the stores near the person who's looking at the coupon. Even if it's been shared to someone on the other side of the country, they should see the locations offering the coupon that are nearest to them. With our coupon feature in Rallio, we automatically queue up the nearest locations to the customer in a map on the coupon.
You're Not Calculating the ROAS
ROAS? Don't you mean ROI?
Actually, no, ROAS is slightly different from the ROI. To be a bit technical, the ROAS (Return on Ad Spend) calculates the revenue received from a specific campaign.
ROAS = revenue / advertising spend
Online merchants can track ROAS through tracking codes and confirmation pixels, on their website, but how do you track an online coupon to a physical visit at a brick-and-mortar store? Unless you have a system in place that connects the online ad spend to the purchase amounts, you won't be able to track the success of your coupon campaigns. And you won't know what offer really has the greatest impact.
---
I'm curious to know how you currently use coupons at the local and national level. Do you create one type of coupon across the brand? Does each franchisee or owner create their own on top of the overall offers? How do you make them easy to use for customers while tracking their success? Let's discuss in the comments and compare with other brands and local businesses.
Also, I want to let you know about a coupon option to make your offers more successful. If any of these reasons were major pain points for you and you're looking for a solution, I want to offer you a demo of Rallio.
We've worked with multi-location businesses that have thousands of locations, and coupon creation, management and analysis turns out to be much more complicated than it seems. To help our clients, we built a coupon technology to save them money, time and effort. Now they are less concerned about losing a fortune with online coupons and have seen incredible results from people sharing them with their friends.
If you're interested in seeing how our coupons work at a brand and local level, send us an email at sales@www.rallio.com.