How to Be a Hashtag Expert
Whether you've been watching the news, looking at a billboard or gone to a tech-friendly wedding, you've probably seen a hashtag being promoted. Calling for you to use them, people, organizations and businesses have rallied around hashtags as a way to draw attention, discuss a topic or enter the marketplace.
But what is a hashtag? What can hashtags do? And how can they being used effectively?
Let's start at the top:
What is a hashtag?
A hashtag is a word, a phrase or an acronym after the pound symbol (#). No spaces or other characters (!, ?, -, %, @, ., $, etc.) are allowed in a hashtag (with a few exceptions).
The hashtag was originally used in IRC forums and resurfaced on Twitter in 2007 with the goal of using it to connect people around certain topics of discussion.
how do you feel about using # (pound) for groups. As in #barcamp [msg]?

— Chris Messina ✌︎ (@chrismessina) August 23, 2007
It grew in popularity and in common usage, even being accepted into the Oxford English Dictionary as a word in 2014. 
What's it used for? What can it do?
Hashtags are used to connect people to a topic. They are public and searchable, and when people look for a specific hashtag, they see the conversation related to that topic. People, brands, businesses, sports teams and nonprofit groups use hashtags to build an easily findable and joinable conversation around a subject matter.
In 2013, Nimrod Kramer saw the rise of the hand signal for a hashtag or the finger hashtag, which went viral. Hashtags rose to the top of popular culture with their integration by brands in marketing campaigns and by news organizations during TV broadcasts. They've had their share of people poking fun at them as well, such as in the famous Jimmy Fallon and Justin Timberlake hashtag skit.
In 2013, Amex and Twitter partnered to let people pay for products using the hashtag #paid in tweets. 
Tweet #AmexWarby, get $20 back 1x on purchs totaling $95+ @WarbyParker w/cnctd Amex Card! RegLtd Exp 7/6/16 Terms:https://t.co/iDenyHT6QV

— American Express (@AmericanExpress) April 6, 2016
Amazon also integrated payments into tweets, allowing people to purchase items from Twitter using a hashtag in a reply.
Star Wars used hashtags to create social buzz through Star Wars–themed emojis, which were inserted into tweets when people used the specific hashtag.
The force is with these new #StarWars emoji for Twitter #MayThe4thBeWithYou #StormTrooper #BB8 #C3P0 http://t.co/vCzMmQOPFj

— Kelly Taylor (@kmtwanderlust) May 4, 2015
TV shows have used hashtags to rally fans of a show together. For example, the marketing managers behind Scandal created their own hashtags for the show but adopted the fan-made hashtags, too.
And for upcoming elections, candidates often use hashtags to build awareness, while networks hosting debates use them to center the discussion on candidate replies.
Original New Yorker @BernieSanders talks with me about growing up in Brooklyn. Watch: #FeelTheBern https://t.co/jb6FWuPU7b

— Mark Ruffalo (@MarkRuffalo) April 18, 2016
But most often, hashtags are used by ordinary people to discuss an issue in the news. Several of the top hashtags used in 2015 related to current events, such as #PrayforParis after the terrorist attacks in Paris, #LoveWins when the Supreme Court made it legal for same-sex couples to marry, and #IStandwithAhmed when Ahmed was arrested for bringing a clock to school.
I am devastated by what just happened in France. #CharlieHebdo pic.twitter.com/IxEbScqYFh

— jean jullien (@jean_jullien) January 7, 2015
Or to, you know, discuss something important.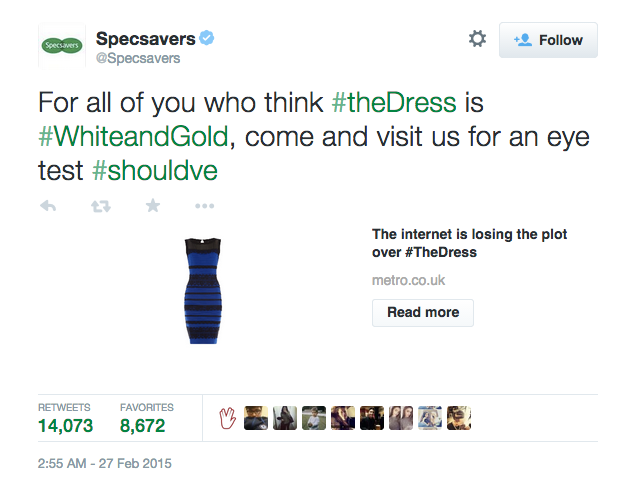 Where can you use hashtags?
Many social media platforms accept hashtags used for linking. The most prominent is Twitter, which has set most of the standards for hashtags used in social media posts.
"The sea is as near as we come to another world." — Anne Stevenson #WednesdayWisdom https://t.co/WkWY9lMX2A

— Monterey Aquarium (@MontereyAq) March 30, 2016
In 2014, Facebook launched the ability to use hashtags in posts and search for people using them in the top bar. One to two hashtags in a Facebook post is just enough if you're going to use them.
This pup Lala looks like she's ready for an adventure!Happy #NationalPuppyDay to all the furry friends who love going on Toyota road trips with their owners!?????????@the_adventures_of_lala

Posted by Toyota of Huntington Beach on Wednesday, March 23, 2016
Instagram only lets you search by hashtags to find information about a topic (as opposed to by keyword or phrase), so they are essential to connecting to popular topics and growing your following on the platform.
On Pinterest, hashtags are only clickable in a pin description, so adding them into your about or board titles won't bring them higher in search results.
Also, searching for them brings in not only the hashtags, but also pins that have that phrase or word in the URL, the photo name or the product page connected to the pin.
Google+ uses hashtags differently. Instead of search curating around a specific hashtag, they connect you to hashtags around a specific topic. When you post on Google+, they also assign you hashtags to make your content more findable.
Tumblr has the most open policy to hashtags. Unlike most other sites where words and phrases must be connected, Tumblr allows for spaces in hashtags.
How can you use it well?
Join the conversation with your audience
Find a hashtag or create one that would connect with your customers. For instance, you could use a trending hashtag and add to it with your company's perspective. Or if you're a pizza chain now offering gluten-free pizza crusts, you could connect with people using the #GF hashtag to let them know about the new offering.
Vegan? Pizza lover? We've got the menu just for you… https://t.co/O6X4SWBhDb #ColourMeZizzi ? #Vegan pic.twitter.com/asRuQeDz3R

— Zizzi Ristorante (@WeAreZizzi) April 9, 2016
Speaking of pizza, a few years ago Digiorno played up their #DiGiorNOYOUDIDNT hashtag on Twitter, talking smack to NFL teams and trolling delivery pizza chains during football season. They were able to include their brand name in the funny, playful hashtag and create relevant tweets around the football topic. Their branded hashtag added to the smack talk of the tweet instead of sounding like a corporate marketing push.
Even years after the original campaign, people are still using the hashtag, and often tweet how much they miss it.
Eating this @DiGiornoPizza makes me miss #digiornoyoudidnt from two years ago. pic.twitter.com/AplIOe369P

— Matthew Crooks (@ImHotBoyRonald) December 24, 2015
Pay attention to the topic at hand (don't use a trending hashtag incorrectly)
If you see an interesting trending hashtag, you might jump at the opportunity to post something clever. Not so fast. Businesses can fall prey to using hashtags incorrectly, and that viral idea may turn into a brand nightmare.
For instance, during the Casey Anthony trial, Entenmanns tweeted using the hashtag #notguilty without realizing it related to her being acquitted for the murder of her daughter. Not the right time or place to use that hashtag.
Or in the case of Digiorno, who tweeted "#WhyIStayed You had pizza". They didn't realize that people were using the #WhyIStayed hashtag to share their heart-wrenching stories of living in abusive relationships.
Example of a brand using a trending topic without understanding the context #Advertising #SocialMedia #WhyIStayed pic.twitter.com/iTSmfaT6Xv

— Scott Paul (@scottatslee) September 9, 2014
After realizing their mistake and removing their insensitive tweet, they responded by replying to as many people who they had upset and had shared their anger on Twitter.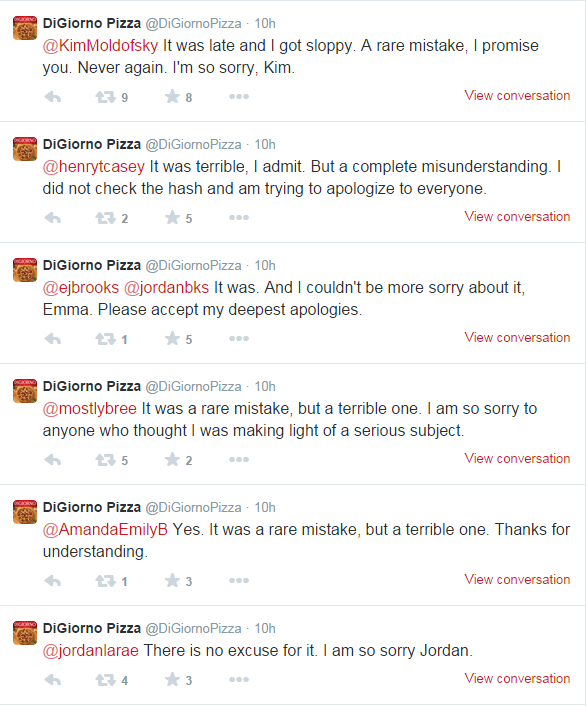 Using a hashtag without context is like overhearing a conversation and jumping in with an unrelated and coarse joke, not realizing that they were discussing a serious subject. You may have made a dumb snafu at best, but at worst you could have greatly offended someone and ruined your reputation. Don't do this with your brand.
Don't try to push your own (unless it's really, really good)
Many people saw the Doritos puppy monkey baby push as obnoxious, or trying to push a specific trend. Hashtags come across best when they're created organically by people and not at the brand level.
Rita's Italian Ice connects their events to hashtags in creative but practical ways. Each year they offer free italian ice on the first day of spring. With people lined up in front of their stores to receive their free Italian ice; what better way to market it than by using the #ritasfirstdayofspring hashtag?
it #InternationalDayOfHappiness & free ice for #RitasFirstDayofSpring , coincidence?? I think not !! pic.twitter.com/GNQ3sPOeyh

— manda (@mandaa54) March 20, 2016
This type of hashtag worked because people were already engaged and excited about getting their free ice. The desire to share was already in motion, so Rita's could easily include their own hashtag to keep the conversation going.
—
How have you used hashtags in your marketing? And how are you planning on using them in your upcoming local marketing campaigns?