Franchising Social Media Best Practices: a Roundup of Our 12 Best Tips
It's no secret that social media is here to stay, and franchise brands that embrace the medium are seeing significant results. If you're a marketing manager or otherwise responsible for your brand's social media marketing, today's roundup of our 12 best tips will help you jump-start your social outreach efforts.
1. Use real-life photos
It's called "social" media for a reason. Your audience doesn't want to see stock photos. They'll scroll right past them! Instead, include snapshots (with permission) of your employees, customers, office environment and other real-life photos. Include not only special events such as birthdays and holiday celebrations, but also simple "day in the life" photos showing what happens in your office.
2. Spotlight a star employee or customer
Do you have an employee of the month? Customer testimonials? Before-and-after photos? An awesome repeat customer who deserves public high fives? That's all excellent material for social media. It's a way of shining the spotlight on the people who make your business tick while creating engaging content.
3. Ask questions that elicit engagement
A question like "Would you rather sleep in on a Saturday or get up and go for a hike?" will get more responses than "Do you like hiking?" You know how they say you have to ask for the sale? The same is true for comments. Quite literally, you can say "Comment below with your response" and it will be more likely to earn engagement.
A question like "Would you rather sleep in on a Saturday or get up and go for a hike?" will get more responses than "Do you like hiking?"
4. Use videos
Videos are bigger than ever and bound to keep growing on social media. Try posting quick, specific videos highlighting a how-to topic, tips on your product or service, or little-known facts. People love to watch short videos and often will watch those as opposed to reading a lengthy post on a topic.
5. Get back to the basics
Infographics, blog posts and guides on topics your audience wants to know about are the backbone of your business, the "meat and potatoes" if you will. Prove you're the guru in your field by creating assets that show off your expertise.
6. Highlight promotions, offers and contests
While most of your content should be non-promotional on social media, it's fine to include occasional posts about current offers and contests.
Stick to the 80/20 formula where just 20 percent of your content promotes your brand and the other 80 percent is dedicated to topics that interest your audience and engage them in conversations.
Side note: Instagram works particularly well for contests. I wrote about this topic extensively here, but in short, Instagram contests can be either standalone events you run on your own, or collaborative where you involve other brands in a "loop" type of contest.
Simply put, contests are a quick way to boost your followers among an audience that's interested in your brand.
7. Use hashtags
Hashtags are one of the best ways to make yourself findable. Choose hashtags that are relevant to your post and likely to be discovered in a search. Instagram makes it easy: Just type in your "#" and start typing a few letters of a hashtag, and Instagram will suggest hashtags that are popular and show you how many times it's been used. You can also search for and follow hashtags to keep up with trending tags.
8. Engage with other users' content
Set aside time daily to like and comment on random photos from your target audience. Selectively follow accounts that complement your brand. With this approach, you'll get a few new followers every day.
Another side note: Some large accounts have an automated strategy of following multiple accounts all at once in order to gain new followers, and then unfollowing later. Why? For appearance's sake, it's best to have more followers than "following." However, you should still follow these large accounts if they add you, because that way, you'll appear at the top of their list of followers! Did you follow all that?
The short version: They follow you, you follow back. When other accounts check out their list of followers, you'll be right at the top (at least for a day or two), making it more likely you'll gain new followers. Here's an example: The account below, with over 20K followers, followed my @kespaeder account. I followed back and went straight to the top of their list. I tried out the "follow back" strategy one day and got 20-plus new followers.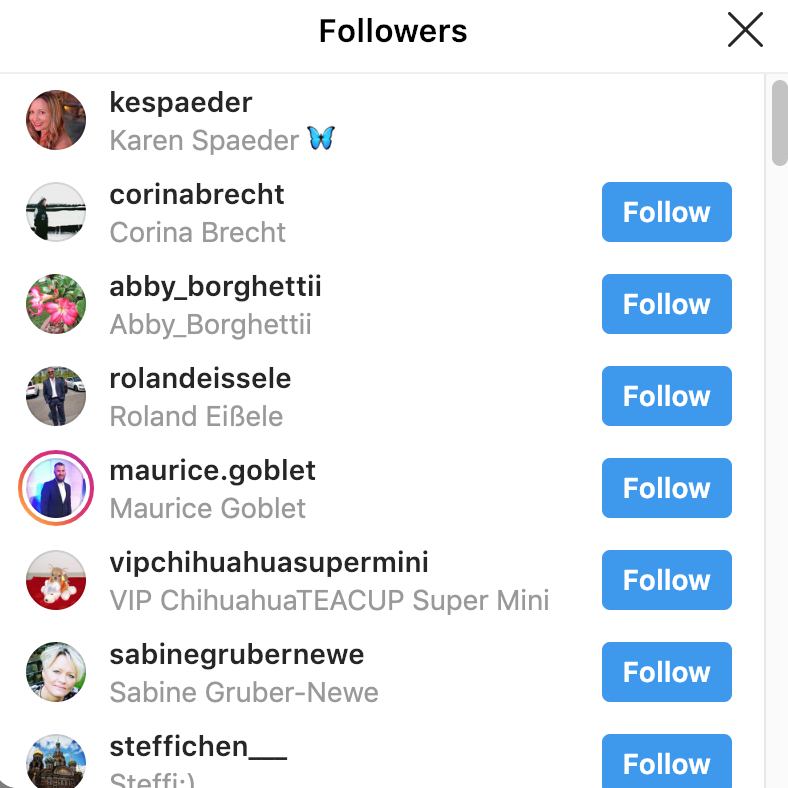 9. Post at the best times
Check your page's analytics and insights to see who is engaging with you and when. That's when you want your content rolling out so it's more likely to be seen, but you should also experiment to find the best posting days and times for you.
10. Complete your bio
Particularly on Instagram, Incorporate keywords and hashtags in your bio, and don't forget a link back to your site. Add an emoji to your username to make it stand out in the sea of profiles as people scroll!
On Instagram, your bio is the only place where you can include a live link, so use it wisely: For instance, if you have specific posts where you want to direct users to a certain website or landing page, you can mention it in a post or an IG story. For example, if you're promoting a workshop series, you could say "Link in bio" within the caption of your post, and then swap out your bio link to feature a link to sign up for your workshop.
11. Sponsor your content
Look at your analytics to see your most popular posts by impressions, and then throw some ad dollars behind your most popular posts. Get in touch with us at Rallio if you need help managing your campaigns and boosting content. We have a team of strategists ready to help.
12. Use the "Live" feature and Stories
Posting "live" means you're filming in real time, and your audience gets notified. You can also use Facebook and Instagram Stories, which are accessible at the top of a user's home page when opening the app and feature a 24-hour snapshot of what's going on with a brand or a person.
After 24 hours, the story disappears, giving them a type of urgency that doesn't exist with photos alone. You can tap within your own story to see who's viewed it, giving you a clear picture of engagement.
---
Is your franchise brand successfully using social media to promote your brand? Let's hear your best tips in the comments.