Holiday Content Ideas to Brighten Your Social Media Pages
It's that time of year when everyone is looking for inspiration for their social media posts. You've no doubt seen a lot of them already, with people sharing pictures of their Christmas trees, wishing one another happy holidays, and sharing their best Rudolph jokes. Unfortunately, people may start to grow weary of seeing the same kind os posts in their feeds. The good news is that there are plenty of fresh ideas you can use to brighten up your social media pages this season! Check out some of our favorite holiday content ideas below.
1. Holiday Quotes and Visuals
For a holiday-themed post, you can use quotes to inspire your audience. You can do this by using a quote that is directly related to the holiday or one that is relevant to your brand and/or audience.
If you are posting on Instagram, make sure the quote is visually pleasing and easy for people to read. Share it to your Story to help increase exposure.
2. Giveaways and Contests
Giveaways and contests are a great way to get people to engage with your brand by getting them excited about the chance to win something. They're also a good way to incentivize people to purchase your products — even if they don't win a prize. Simply offer a small discount to anyone who enters the giveaway to encourage more sales, while also promoting engagement with your social media pages.
Related: Quick Guide to Holiday Marketing on Social Media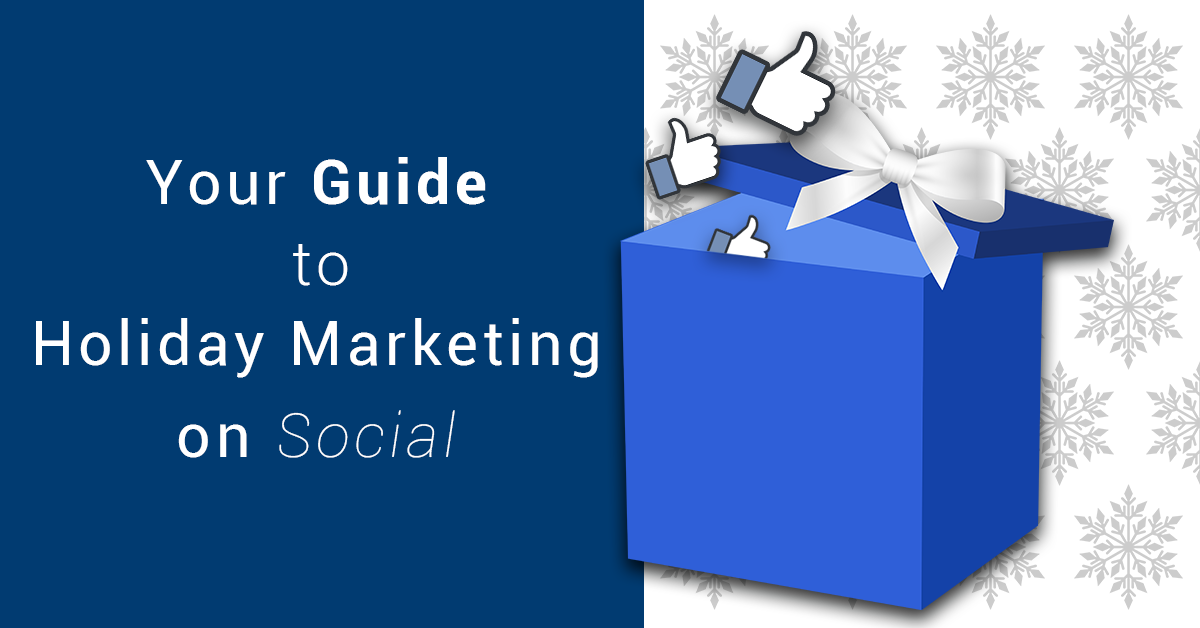 3. Holiday-Themed Posts
Holiday-themed posts are a great way to engage your audience. Think about what type of holiday-themed content you would like to create; this can be something as simple as sharing a photo from your holiday party, or it could be more complex, like a video or a podcast episode focused on the holidays. As long as it's authentic and locally focused, it's likely to resonate with your audience.
4. Holiday-Related Articles, Blog Posts & Press Releases
Holiday-related articles, blog posts, and press releases are a great way to build trust with your audience, promote your brand, and boost SEO. Try writing a few how-to, inspirational, or holiday-themed posts (much like this one) to get your audience in the holiday spirit.
5. Holiday Tips and Tricks
What are some of your holiday hacks for avoiding the crowds, scouting out great deals, enjoying local light displays, or hanging Christmas lights? Create a post or a video with some of your favorite tips and tricks. Invite engagement by asking your audience to share theirs in the comments section.
6. Holiday E-Books
Holiday e-books that you give away as a free download can help to grow your email list for use in later marketing campaigns. Include a link to download the e-book in the post, as well as an excerpt from one or two chapters of what's inside. You can also give away a free chapter of a longer book if it makes sense for your business.
7. Behind-the-Scenes Content
Have you ever wondered what goes on in the offices of your favorite brands? Customers love peeking behind the curtain, so give them a look at what it's like to work for your company. Showcase employee culture with photos and videos showcasing office events or employee testimonials. Let customers see where everyone works together to get things done. Use this content to show off what makes your company a great place to work.
Make the holidays meaningful for your customers with these holiday content ideas.
Holiday content is a great way to make the holidays meaningful for your customers. Whether you're a retailer, a service provider or in another industry, holiday content can help you build brand awareness and attract new customers. By adding some seasonal flair to your marketing strategy, you can boost sales and conversions while keeping your social media pages fresh and exciting.
With these holiday content ideas in mind, you're ready to start brainstorming your own holiday posts! We hope this list has given you some inspiration for what to post on social media throughout the holiday season.